Web Site Shopping Cart

E-Commerce Solutions
Do you want to expand your business beyond your brick-and-mortar store? Does your business model include an on-line presence for selling your products? We can help you accomplish your goal with a web site shopping cart.
We are able to offer you a website shopping cart solution that suits your product line and business model.
In our initial contact, we interview you to get an idea of what you are envisioning. If it's one product you are shipping yourself, or multiple products using a third-party order fulfillment company, we can create the web site shopping cart you need.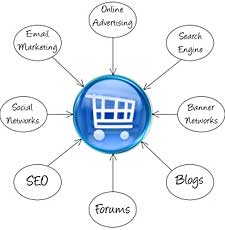 We also help you with determining your interface needs for online payment. Does your present merchant account meet your needs for online sales? Just want to use Paypal? We can incorporate your payment portal with your website shopping cart.
We don't stick to just one website shopping cart. Everyone has different needs for their e-commerce solution. That's very important to know. We use the shopping cart that suits your web site shopping cart needs.
We do provide Miva Merchant hosting. This is a very popular product that is highly customizable. It offers many diverse modules that can be added to meet your needs. It can be customized to your company's look. Best of all, it is Search Engine Friendly too.
Please contact us for a web site shopping cart free quote.
Website Development
Let us walk you through our time-tested steps to create your website. Our professional website designers can develop a simple small business or a major ecommerce website customized just for you. All of our sites are Search Engine friendly.
Website Hosting
Whether you're seeking website hosting services or email service only for your company's domain name, we can help you. We've hosted websites large and small since 1995. Our experience allows us to create the hosting package you need at an affordable price.
Search Engine Optimization (SEO)
Our SEO expert can provide small businesses an opportunity for optimal internet marketing with affordable search engine ranking services.