Affordable Web Site Hosting Services

Affordable Website Hosting Services
We've been providing affordable website hosting services since 1995. We help you determine what kind of hosting package best suits your needs.
From a small business informational website to an extensive shopping cart, we can provide the platform that suits your website needs. If your site needs customized programming, our hosting service can provide the server-side requirements to make that special feature work the way you envisioned.
We take the mystery out of website hosting. Most of our clients come to us and tell us, "I don't really know anything about where to start". That's fine. We do. We provide all the information you need to know in non-techie speak.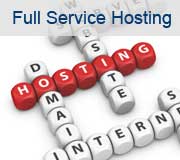 Hosting services include Domain Name Registration or transfer.  We pay for your first year.  The domain name is your

www.yourname.com

. The Domain Name Registrar is a third-party company that you pay yearly to broadcast to the rest of the Internet where to find our website address or "URL" (Uniform Resource Locator).
Unlimited Email Services @yourcompany.com.  We strongly urge you to use this service.  If you are giving out your email address, then why give out one that advertises Comcast or AOL?  Be

yourself@yourcompany.com

to better promote your website and your business.
FTP access to your website.  This is an advanced featured that allows you to move files back and forth between your local computer and your website using File Transfer Protocol.
Statistical page on your website's activity. View how many visits your site gets hourly, daily, monthly using Webalizer; an industry-standard program. See what search engines are bringing in visitors. See what pages are getting the most traffic.
Access to raw data logs.  This is a more advanced feature that allows you to download your website traffic information into any program you would like to use to evaluate your website's activities.
We offer Affordable Website Hosting services for all your business needs. That's not all. See our Add On Features for all we can provide.
Website Development
Let us walk you through our time-tested steps to create your website. Our professional website designers can develop a simple small business or a major ecommerce website customized just for you. All of our sites are Search Engine friendly.
Website Hosting
Whether you're seeking website hosting services or email service only for your company's domain name, we can help you. We've hosted websites large and small since 1995. Our experience allows us to create the hosting package you need at an affordable price.
Search Engine Optimization (SEO)
Our SEO expert can provide small businesses an opportunity for optimal internet marketing with affordable search engine ranking services.